Hardcore fantasy artwork
of heroines in peril!

When freed from service, house elves can use their magical powers to do extremely naughty things.
Hermione learns this the hard way, finding herself tied to a bondage bed in the basement of Hogwarts, with a very aroused Dobby ready to enjoy his new-found freedom...
Featuring: Hermione Granger, Dobby the Elf
After the death of Han Solo, Chewbacca goes on a downward spiral and joins the dark side as a bounty hunter.
When he captures Rey aboard his new ship, he shows her just how depraved he's become...
Featuring: Rey Skywalker, Chewbacca
Bound, gagged, and completely helpless, some of your favorite heroines are about to find themselves in serious peril.
This series features 8 standalone scenes of different heroines in desperate and dire circumstances...
Featuring: Princess Leia, Sansa & Arya, Hermione, Ginny, Luna, Wonder Woman, Harley Quinn, and Elsa & Anna!
After the battle of Winterfell, Arya Stark takes a much needed bath to wash off the grime from the fight.
Little does she realize that a single wight has survived and is about to exact his revenge...
Featuring: Arya Stark, A very pissed off wight
After successfully ambushing Spiderman and Black Widow, Venom shows an even darker side of his twisted personality.
But it seems the alien symbiote may have ideas of its own...
Featuring: Black Widow, Venom, & Spiderman
This series features 7 standalone scenes of your favorite heroines in some very sticky situations...
Featuring: Elizabeth Swann, Hermione Granger, Ginny Weasley, Katniss Everdeen, Wonder Woman, Padme Amidala, Ahsoka Tano, & Harley Quinn
This series will feature 10 of my favorite heroines in stand-alone scenes, taking it deep in their ass for the very first time.
Featuring: Dora the Explorer, Bella Swan (Twilight), Black Widow, Sansa Stark, Arya Stark, Padme Amidala, Hermione Granger, Rey Skywalker, and Elsa & Anna
This series will feature 8 different heroines at the tender mercy of various terrifying monsters and beasts.
Expect lots of tentacles, teeth, and monster cocks!
Featuring: Danaerys Targaryen, Hermione Granger, Padme Amidala, Rey Skywalker, Arwen (LOTR), Elizabeth Swann, Claire Dearing (Jurassic Park), and Princess Merida
Following up on my most popular series, this will feature 10 new heroines getting enthusiastically splattered, throated, and facially abused.
Featuring: Hit Girl (18+), Scarlet Witch & Darcy Lewis, Emily in Paris, Beth Harmon (Queen's Gambit), Alice (Resident Evil), Catwoman, Psylocke, Jasmine, and Sabrina the Teenage Witch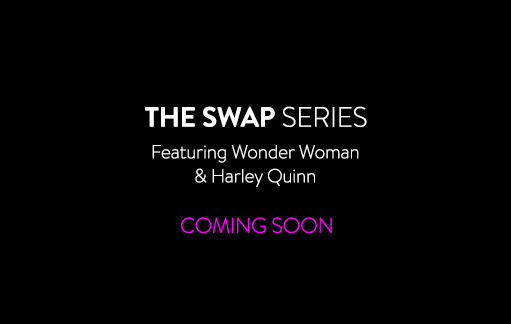 The Swap Series
When Batman captures Harley Quinn and Penguin captures Wonder Woman, they meet to do a prisoner swap.
But seeing both girls tied up and helpless, Batman and Penguin begin to get other ideas... ; p
Featuring: Wonder Woman & Harley Quinn
Coming soon!
UPCOMING THEMED SERIES
Double-stuffed Series
Kidnapped Series
Crossover Series
All Girls Series
Disney Princess Bondage Series
POV Series
UPCOMING STORY SERIES
The Swap (featuring Wonder Woman & Harley Quinn)
The Queen's Capture (featuring Padme Amidala)
The Cursed Cock (featuring Hermione, Ginny, Luna, and Cho)
Dany's Dungeon (featuring Sansa, Arya, Daenarys, and Missandei)
A Royal Affair (featuring Elsa & Anna)
And others I haven't decided on yet ; )
Get all these series as they are released:
Click here to become a member >>
WHO I'LL BE FEATURING
Here's the list of who I'll be featuring in the next several months:
Harry Potter: Hermione, Ginny, Luna, Cho
Star Wars: Rey, Padme, Ahsoka, Princess Leia, Jyn
Game of Thrones: Sansa, Arya, Dany, Margaery, Cersei
Disney: Elsa, Anna, Rapunzel, Jasmine, Mulan, Ariel
Marvel: Black Widow, Mary Jane, Jane Foster, Wanda/Scarlet Witch, Psylocke, Rogue, Mystique, Captain Marvel
DC Comics: Harley Quinn, Wonder Woman, Batwoman, Catwoman, Supergirl
Netflix Series: Beth Harmon from Queen's Gambit, Emily in Paris, Yennifer and Princess Cirilla from Witcher, Sabrina the Teenage Witch
Various: Hitgirl (age 18+), Katniss from Hunger Games, Bella from Twilight, Elizabeth from Pirates of the Caribbean, Arwen from LOTR, Alice from Resident Evil, Chani from Dune, and more!
Want to see them as they come out?
Click here to become a member >>
Any questions or feedback?
Drop me a line!