Hermione's Visit to Hagrid's Hut
A New Virtual Sex Mini-Game featuring Hermione Granger (18+)
After the events of the Codex of Corruption, Hermione and the other girls were left with some lasting... changes.
The lingering effects of the dark sex magic made them thinking constantly about sex and get aroused by all sorts of things.
As it happens, this is rather a nice surprise for some lucky lads at Hogwarts, including a certain lonely groundskeeper named Hagrid.
In this mini-game, you get to experience Hermione's surprise birthday visit to Hagrid from his POV.
Let's just say, she gives him the best birthday present ever.
---
Some quick tips for playing this mini-game
1) You need your audio ON for this game. Audio is a big part of the game experience (i.e. hearing Hermione talk dirty to Hagrid).
2) You can go full-screen by clicking the full-screen icon in the upper-right corner of the game.
3) This game is designed for a desktop monitor with full screen.  Mobile works, but it's so much better on a larger screen!
4) This game has four parts:
Part 1) Stripping Hermione and putting a leash on her. (Done)
Part 2) You get a handjob from Hermione. Then you interactively throat fuck Hermione and cum on her tongue.  Lastly you and your dog Frostie give her a surprise spitroast! (Done.)
Part 3) Fucking Hermione in her pussy, with stomach bulge from your cock. Some light bondage. (coming soon)
Part 4) Spanking Hermione then stretching her little asshole wide open with your cock (coming soon)
5) To slap her tits in Part 1, click on her boobs once it says you can slap her tits.
To play all of Part 1 and Part 2, join as a member.
Part 3 and beyond will be available to annual and lifetime members, or monthly members who have been subscribed for 4+ months.

---
It took me around 12 days to create Part 1, but now I have the basic functionality for future mini-games with other characters.
If you like this format, let me know and who else you'd love to see in a mini-game like this.
Enjoy : )
- Nick
---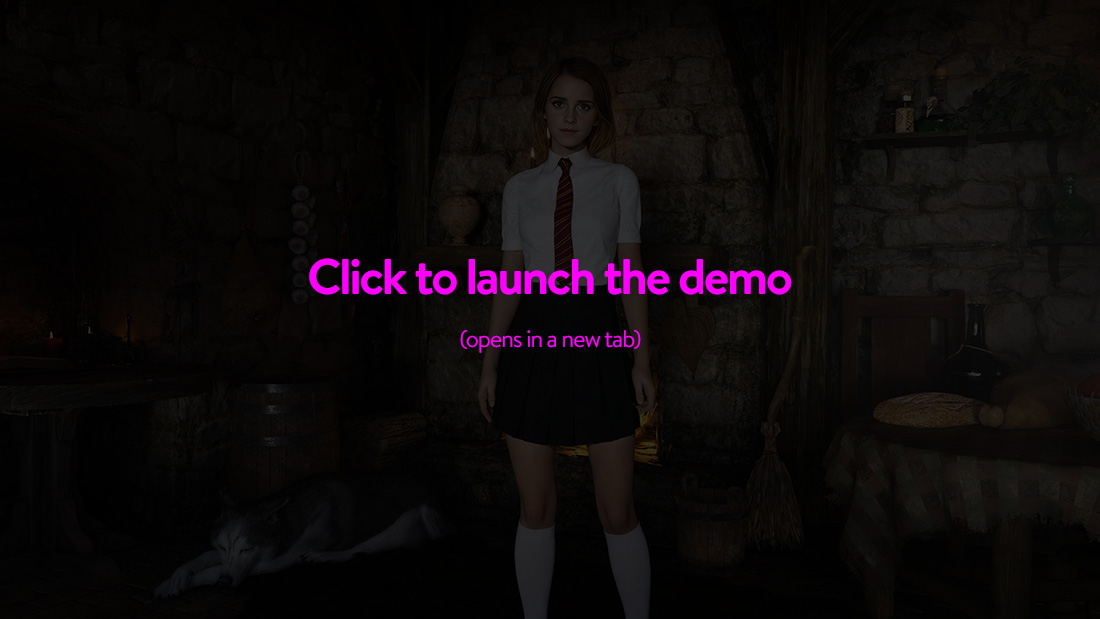 Latest Updates & What's Next...
Got any questions or comments?
Drop me a line!