COMING THIS WEEK

Kamala Khan & Captain Marvel | The Marvels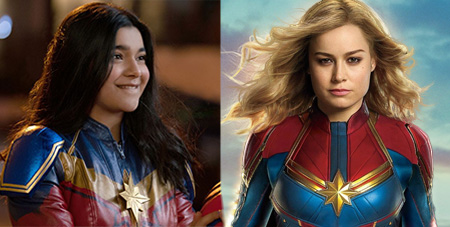 Kamala can't believe Captain Marvel is lying on her bed!
Is this really happening?
But Captain Marvel just smiles and begins to unzip her suit...
They strip naked for each other, revealing their sweet shaved pussies.
You'll see Captain Marvel licking Kamala's pussy lips and clit.
Then... will Kamala get pegged by her biggest hero?! 😲

Ginny Weasley | Chapter 8: Ginny Needs a Drink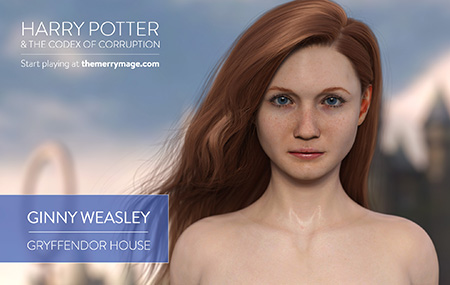 Ginny swears off more sex, wanting to wait until marriage.
But the book has just the spell to change her mind.
Ejaculum faminus: filling her with an irresistible thirst to drink down your hot cum.
All you have to do to activate the spell is slip your cum in her food.
What could go wrong?!?
** This chapter will feature Ginny, Hermione, & Aurora slurping down your cum ; p **
Note: Ginny and all characters are 18+ in this game
NEW SCENES & SERIES

FROM 2022
In my newest game, you play Harry Potter and you've just acquired a dangerous manual of dark sex magic.
Explore your darkest cravings and compel the girls to satisfy them all!
Are you up to the challenge?!
Featuring: Hermione, Luna, Ginny, Cho, Patil Twins, and Tonks
In my first virtual sex game, you are a Sith apprentice who has captured Rey.
To turn her to the dark side, you'll need to surface her suppressed desire to be sexually dominated.
Are you up to the challenge?!
Featuring: Rey Skywalker
FEATURED HEROINES
Here's the list of who I've featured (bolded) or will be featuring:
Harry Potter: Hermione, Ginny, Luna, Cho, Tonks
Star Wars: Rey, Padme, Ahsoka, Princess Leia, Jyn
Game of Thrones: Sansa, Arya, Dany, Margaery, Cersei
Disney: Elsa, Anna, Rapunzel, Cruella de Vil, Jasmine, Moana, Mulan, Ariel, Violet Parr
Marvel: Black Widows (Natasha & Yelena), Wanda/Scarlet Witch, Captain Marvel, Mantis, Gamora, Agent Carter, Kate Bishop, Echo, Wasp, Valkyrie, Shuri, MJ, Jane Foster, Psylocke, Rogue, Invisible Woman/Sue Storm, Layla El-Faouly

DC Comics: Harley Quinn, Wonder Woman, Ratcatcher, Jane (Doom Patrol), Batwoman, Catwoman, Supergirl
Various: Hitgirl (age 18+), Eleven (18+) & Max (18+) (Stranger Things), Katniss Everdeen, Bella (Twilight), Elizabeth Swann (Pirates of the Caribbean), Starlight & Kimiko (The Boys), The Bride (Kill Bill), Arwen, Chani & Lady Jessica (Dune), Olivia R., Beth (Queen's Gambit), Veronica Mars, Faye Valentine, Yennifer & Ciri (Witcher), Ruby Roundhouse (Jumanji), and more!
Want to see them all?
Any questions or feedback?
Drop me a line!